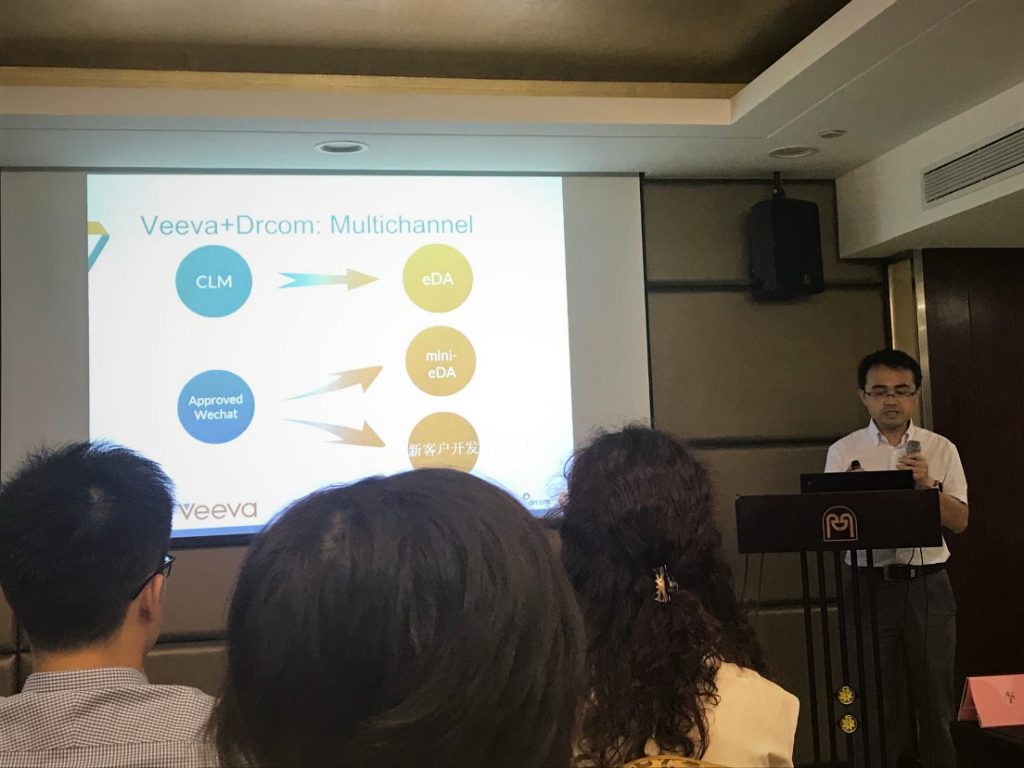 Veeva Systems Inc. is a leader in cloud-based software for the global life sciences industry, listed in Nasdaq with a market value of over USD 8 billion. Veeva is committed to innovation, product excellence, and customer success for well over 500 global customers, ranging from the world's largest pharmaceutical companies to emerging biotech firms.
Drcom is the only certified level 4 Veeva Medical & Creative Agency in China, the highest level of certification Veeva awards to agencies globally.
On 24 Aug., 2017, Drcom attended Veeva Agency Day and shared our creative data and WeChat solutions for the healthcare industry. Drcom's data visualization solution for Veeva MyInsights enables pharmaceutical sales reps to clearly and quicky interpret their sales activities, and to take targeted actions accordingly. Meanwhile, Drcom's WeChat solution is a powerful tool for achieving increased HCP online engagement.
Judges from top multinational pharmaceutical companies such as SANOFI, MSD,GSK and Novartis awarded the Veeva Agency Day Championship to Drcom, recognizing Drcom as the most creative and workable solution vendor.
As an expert of multichannel digital solutions, Drcom has been focusing on supplying intelligent data and communication solutions for the pharma industry since 1996. The Veeva Agency Day Award serves as a great stimulant for Drcom to move even faster and further, bringing efficient and data driven digital healthcare solutions, nourishing the Veeva CRM strategy for the Healthcare industry and beyond, and creating a healthier world.
To learn more, read this article from Veeva China (in Chinese).
Banner image (from left to right): Marie Chavanon, Digital Strategy Director (MSD), Vincent Wen, Product Manager (Drcom), Aaron Zhu, Agency Program Manager (Veeva)