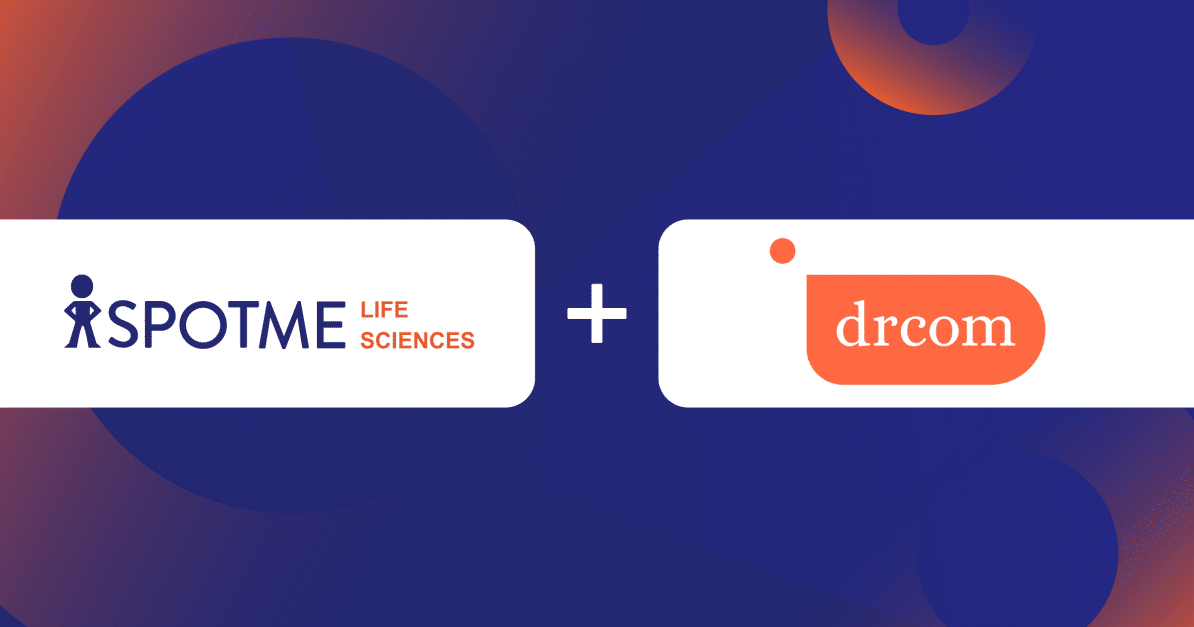 Singapore, November 15, 2023 – drcom is proud to announce its partnership with SpotMe as an agency & a dedicated supporting partner for SpotMe in the Asia-Pacific (APAC) region. This collaboration brings together two industry experts to create interactive and immersive experiences for your HCPs across APAC.

At drcom, we have always been passionate about leveraging the right technologies for our clients. Our mission has been to enhance customer engagements, and SpotMe shares this commitment, making them the ideal partner as we continue to bring personalized event experiences for HCPs.

As an agency & supporting partner for SpotMe, drcom will be the bridge connecting life sciences companies & HCPs throughout the APAC region with SpotMe's event engagement solutions. We're committed to ensuring seamless integration, personalized support, and technological expertise to make every event a resounding success.

"Joining forces with drcom marks a pivotal moment for SpotMe as we intensify our commitment to the life sciences and pharmaceutical sectors. This partnership is a testament to our dedication to delivering cutting-edge, omnichannel experiences that engage healthcare professionals in meaningful ways. Together, we're not just reaching audiences; we're creating the future of HCP engagement." – says Olivier Aubert, Business Development and Partnerships Director at SpotMe.

"We are thrilled to embark on this transformative journey with SpotMe.Our partnership is a testament to our commitment to pushing the boundaries of innovation for HCPs engagement. We believe that our shared vision, combined with our respective expertise, will redefine the landscape of event experiences for HCPs, setting a new standard for the industry." – says Didier Roumengas, CEO at drcom.

About SpotMe
SpotMe is the enterprise event platform for life sciences that accelerates HCP relationships at scale. With 20+ years of unrivaled experience in the event technology industry and a solution that can be used for in-person, virtual, and hybrid events, SpotMe is the first choice for event engagement in high-touch industries. Trusted by 12,000+ event builders and with customers from 10 of the top 20 life science and pharmaceutical companies worldwide, event organizers can leverage SpotMe's fully branded and compliant event app, gated on-demand content hub, and rich engagement features to deliver a personalized experience to HCPs and gain deep data insights that feed into their CRM. SpotMe offers instant 24/7 instant support and white-glove professional event technology services.
Learn more information about SpotMe: https://www.spotme.com/

About drcom
drcom is a global life sciences digital agency with omnichannel & storytelling expertise. They support their partners at global, regional & local levels by driving HCP & Patient engagement excellence through an omnichannel experience. Trusted by over 30 life sciences companies globally, prospective partners can leverage drcom's strength in customer-centric content, data-driven personalization & interactive experiences to deliver an immersive omnichannel experience.
For more information about drcom, please visit https://www.drcomgroup.com/.
To learn more about how to leverage SpotMe to enhance your HCP event experiences, drop an email to: michael.phee@drcomgroup.com | marketing@drcomgroup.com